Meet Our Orthodontist
Dr. Travis Fiegle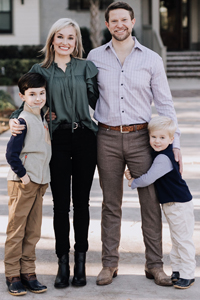 Dr. Travis joined Winning Orthodontic Smiles in January of 2013. He is originally from Madison, Georgia, and graduated summa cum laude from the honors program at the University of Georgia with a degree in biology. He then attended The Medical College of Georgia for dental school, graduating in the top 5% of his class. He stayed at MCG following dental school to complete his orthodontic residency. Since graduation, Dr. Travis has achieved the distinction of becoming a Diplomate of the American Board of Orthodontics, a title that a very small percentage of orthodontists in the world ever achieve. The American Board of Orthodontics (ABO) is the only certifying board recognized by the American Association of Orthodontists and the American Dental Association. Dr. Travis is the only ABO certified orthodontist that practices and resides in Beaufort county.
Dr. Travis' approach to patient care is simple: to treat every patient as if they were his own family. He strives to provide the best care possible to his patients in a fun, friendly environment. Dr. Travis is a certified Invisalign®  premier provider and is an active member in several national, regional, and local dental societies. He also serves as the President for the Orthodontic Alumni Foundation at the Medical College of Georgia, now known as Georgia Regents University. In Dr. Travis' spare time, he enjoys hunting, fishing, playing golf, and working out. Dr. Travis, his wife, Liz, and their sons, Karson and Walker, love life in the Lowcountry.  They are actively involved in the community and like to spend time outdoors enjoying this beautiful area we live in.  They also love college football and agree on who to cheer for except when Alabama (where Liz was a Crimsonette) is playing Georgia (Dr. Travis' Alma mater).  Dr. Travis and his family are also actively involved in their church.
Dr. Katie Solomon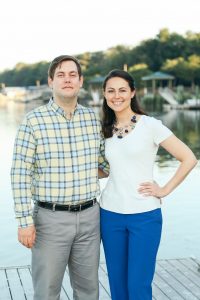 If you ask Dr. Katie Solomon where she grew up, you have to narrow things down a bit. Her father served in the military, so by the time she was 12 her family had moved five times.
Depending on the year, home might have been in Georgia, or maybe Florida. Or the Philippines. But to Dr. Katie, the difficulty in naming a hometown works to her advantage. She feels strongly that this lifestyle has enhanced her ability to connect and communicate with people from a wide variety of backgrounds.
Her family lived in South Georgia during her high school years, and after graduating she entered the University of Georgia and earned a spot in its highly competitive honors program. She graduated summa cum laude with a Bachelor of Science in biology and a minor in nutrition. She was accepted to the Medical University of South Carolina (MUSC) in Charleston where she began dental school. While there, she was inducted into Omicron Kappa Upsilon, a national dental honor society. This honor is extended only to top students who have demonstrated exemplary traits of character and the potential for future professional growth.
While immersing herself in all that dentistry has to offer, Dr. Katie fell in love with field of orthodontics. She was drawn to the field because it would give her the ability to impact patients' lives by giving them the confidence to show off their best accessory — their smile!
The opportunity for Dr. Katie to blend her love of science with her eye for aesthetics was something she couldn't pass up. So after earning her Doctorate in Dental Medicine, she was one of the few students selected to continue her education at MUSC with a 3-year residency in orthodontics and dentofacial orthopedics. While there, she was honored by being chosen by the orthodontic faculty to serve as chief resident her final year. She graduated with a Master's of Science in Dentistry.
Outside of orthodontics, Dr. Katie enjoys spending time with her friends and family and curling up with a good book. She loves dogs and plans to get one in the near future, but until then she will settle for dog-sitting for friends and volunteering at local shelters. Dr. Katie was involved in competitive dancing and cheerleading throughout childhood, and she would love to return to dancing in a smaller capacity to stay active and have some fun while doing it. And, of course, we can't forget to mention her enthusiasm for the Georgia Bulldogs!
Dr. Katie is excited to explore the Lowcountry and all that it has to offer with her husband, Jesse. Katie and Jesse met while attending the University of Georgia. Jesse is a landscape architect with Thomas & Hutton. He was raised near Savannah, Georgia, and has enjoyed moving closer to home.
While Dr. Katie appreciates her childhood as a military brat, she is very eager to finally put down her roots in the heart of the Lowcountry and considers herself lucky to have the opportunity to serve this community by creating winning smiles! And she couldn't be happier to join such a great team!
Dr. Gavin Fox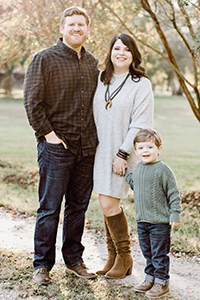 Dr. Gavin joined the Winning Orthodontic Smiles family in the spring of 2021. Originally from Chattanooga, TN, he graduated from Furman University in Greenville, SC where he met his wife Christine. After being accepted at the University of Tennessee College of Dentistry, he moved to Memphis, TN where he served all four years as the class president and graduated at the top of his class. Dr. Gavin stayed in Memphis to complete his 3 year orthodontic residency at the University of Tennessee where, in his last year, he was selected to serve as chief resident. Following the completion of his training, Dr. Gavin achieved the distinction of becoming a board certified orthodontist by the American Board of Orthodontics.
Dr. Gavin feels especially lucky to have such an amazing family including his wife Christine and son Bennett. They have all fallen in love with the Lowcountry and take every opportunity to get outside and enjoy this beautiful place they call home. Dr. Gavin looks forward to pursuing his and Bennett's interest in fishing! Growing up in Tennessee and being a previous football player himself, Dr. Gavin is a lifelong Tennessee Vols fan and grew up going to games in Knoxville.
Dr. Gavin is passionate about creating the best patient experience. He strives to meet every individual's smile goals and to have fun while doing it! He genuinely loves the career that he has chosen and feels fortunate to have the opportunity to work with every one of his patients to achieve a beautiful smile.